Chronicler

---

Chronciler was commissioned by MAP Magazine as a response to Ill Feelings by Alice Hattrick.

The Crip time of Ill Feelings pulls into intimate proximity the experiences of sick women in the 19th century and sick women of the 21st century, their similarities more acute than their differences. A reminder that the forward trajectory of linear time does not necessarily guarantee progress.

You can read the full piece here



Reader's Digest
---
Reader's Digest was commissioned by Market Gallery as a response to Reproductive Technologies, a six month reading group and event of the same name that considered how gender, motherhood, and sexual difference emerge within and produce new scientific technologies.

Reader's Digest explored political body parts and the body politic, the mind/body split and the gut/brain axis, and reading and writing as metabolic processes—transforming existing resources into new energies.

Reader's Digest was also subsequently published online by MAP Magazine - you can read the full piece here
A Maggot

---
A Maggot was developed for 'Self-Service'—a publication and event programme produced in collaboration with Ilona Sagar for Glasgow International 2018.

My archival research into The Peckham Experiment—which conceptualised health as a harmonious relationship between organism and ecosystem—coincided with my Granny's admission to hospital, where maggots featured as part of her treatment. A Maggot is the result of this symbiotic coincidence—an exploration of the 'flimsy layer that seperates one body from another.'

A Maggot was also subsequently published online by MAP Magazine—you can read the full piece here
Typecast

---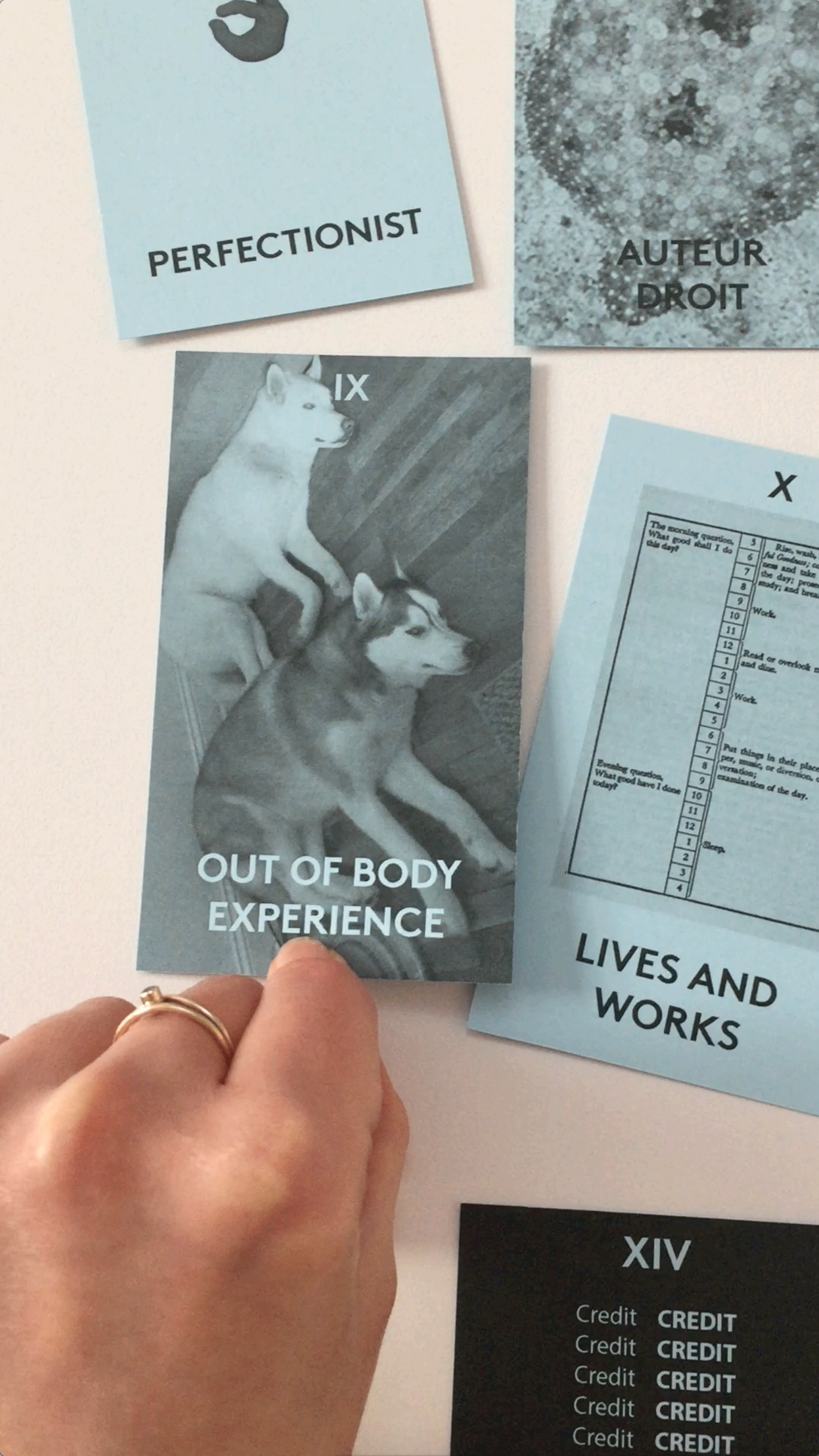 Typecast was a workshop commissioned by Cooper Gallery to expand upon the central themes of 'Ulay: So You See Me'.

I developed a series of writing prompts that took the form of a deck of Tarot inspired cards. Through these prompts we produced new works that explored the various ways we perform ourselves for one another through the things we encounter, record, and share.

The workshop used the existing contents of our phones as a starting point and played and experimented with character writing tropes borrowed from TV, cinema, and literary fiction to explore the tensions between representation, sincerity, and authenticity.

Profile

---
Profile
was a new text work and perfromance commissioned by Cooper Gallery to coincide with the International Symposium as part of their exhibition 'Ulay: So You See Me'.
Under the guise of biography, the text unpicked the often contradictory meanings of 'profile' to explore the various structures— bureaucratic, linguistic, social, or self-determined—through which we perform and produce our identities
Profile
was subsequently published in Cooper Gallery's periodical
&labels
You can read the full peice
here